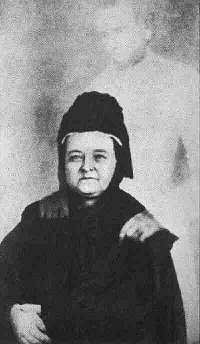 The Photograph is the infamous one of Mary Todd Lincoln, visiting William Mumler's Boston studio. When this photograph came out Mary was once again seen as the hysterical one (yet doesn't Barthes write in
Camera Lucida
that history
is
hysterical?)
On Valentine's Day I spent time in the rare book reading room at Duke, looking at spiritualist photographs, at
cartes des visites
of the dead, a common practice in the 19th century, sometimes the only time a loved one ever had their photographs taken. I looked at lots of photographs of dead babies, rose-tinted. I am trying to do renewed research for
Book of Mutter
. A book that is a document of the past in many ways, but also a document of my past, a past writer's self, and it's difficult for me to reaccess it. These ghosts. The sentimentality, the banality, of the past. How to channel it up.
I need to meditate more on mourning and photography. Reread both of the Barthes today (his work on photography, and then the fragmented notes after his mother died that were in a way a draft for the photography book). I feel like the man posed for the photograph whose dead ancestors flit in the background.
Yet did he know they were collaged on
Or did he think they were there
Was he manipulated
Did he manipulate
To enter a text after you've vacated it...What does that mean? Is it like propping up a dead child to pretend it's still alive, so you can take its picture?