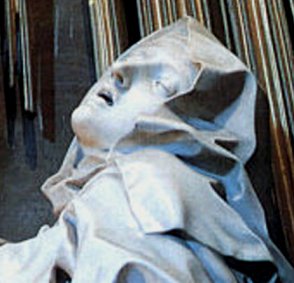 This image is the Ecstasy of St. Teresa by Bernini. It was Lacan who said, in his seminar on the mystics, you just have to look at her to know that she is coming. To Lacan this is a statue of self-abjection, yes, but as it approaches jouissance, total ecstasy. I quote this in my Green Girl, which more than anything is about the mysticism of young girls, a modern-day Macabea, searching for, wanting transcendence, in fucking, in films, in mystics, in make-up, in Hari Krishnas (yes yes Hari Krishnas).
I have been doing this mind-opening interview with
Kate Durbin
, whose work and ideas I feel such a profound kinship to, whose Ravenous Audience I felt I could have written, if I wrote destructive gorgeous poetry (which I do not). Such a egotistic thing to say! But it's true. I feel quite uncanny when I read Durbin, who brings back to a grotesque life Clara Bow, Marilyn Monroe, my loves too, the films of Catherine Breillat, an uncanny that is a doubling. Anyway she sends me the most thoughtful readings of
O Fallen Angel
and my work in general, and I meditate on them and spend the day writing my answers, which are really starting to cement a general theory of aesthetics and politics for me that will hopefully go into the Semiotext(e) book. Who knows what will happen to the interview! The first answer I sent her was six pages long. It dealt with my ideas regarding Kristeva's abject, and how it pertains to literature, and about writing the language of incest, and rape fantasies versus rape-rape. It was really long. But it is so gratifying, and thrilling, to be challenged, to think so deeply on these subjects, of violence and transgression in literature, on the grotesque, on mysticism.
I wanted to share with you some of my big epiphanies. One was while reading Amy Hollywood's Sensible Ecstasy, a book I've name-dropped here before, which is basically about how Lacan + Bataille + the French feminists + deBeauvoir were obsessed by the mystics. And Hollywood quotes Sartre as being super uncomfortable with Bataille's fiction and his more personal writings, his autobiographical spiritual writings like Guilty, what he calls their "fleshly promiscuity" - how bodily, emotional, excessive, destructive they are. Versus the very cold and theoretical and rational ways Bataille analyzes, say, transgression and sex and violence and murder in his Erotism. Then I think of Kristeva's differentiating between a stylist and a theoretician or philosopher. And I realize, I read and write as a stylist, not a theoretician, a theory to me is something like an answer. And I'm only interested in the fleshly promiscuity, in the impure, the incestuous, the messy, the chaotic, not anything so pure as a theory. I think of Vanessa Place's coining of the term "subjective correlative" in her Dies: A Sentence.
I am also reading about hysteria (Hollywood's book is a lot about the relationship of hysteria to mysticism, historically and theoretically) and the grotesque, Bahktin on Rabelais, Kristeva rereading Bakhtin. And I'm realizing that all of my interests center around the notion of the grotesque, the grotesque as the writing of the id, vulgar, destructive, freeing. So the language of the grotesque (which definitely links to Kristeva's notion of the semiotic, the language of the abject) as well as the figure of the grotesque, especially the female grotesque (a reader tipped me to Mary Russo's book Female Grotesque). Bakhtin's image of the "senile, pregnant hag" as the epitome of the grotesque (now I think of Ariana Reines'
essay
on the hag, on Duras, Reines who in The Cow and in this essay writes so much of the grotesque and the abject of the "vat of mushy ideas and disgusting feeling," writing that is "dirty and more excessive."). I realize I too align myself with the grotesque, and writing of the grotesque. I want to be a pregnant hag, giving birth to destructive monologues out of my cunt of a mouth. And Bakhtin was wrong - the hag is not senile, the hag is babbling vulgar language, epiphanies, curses, excess. The hysteric is grotesque, Charcot's hysterics miming their anguish and suffering, Frances Farmer is grotesque, the image of her kicking and screaming, trying to break through but ultimately contained, a numbed-out Dora, the unruly woman, the disordered woman, the criminal woman, the angry woman, the old woman writer, giving birth to broken texts, bodily texts, emotional texts, to miscarriages, to abortions, these are all grotesques, my Medusas laughing, my marvelous monsters.