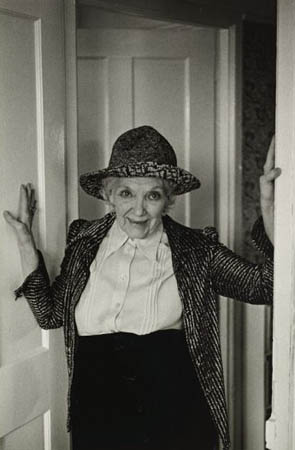 my favorite hag writer
Repat Blues is
reading
Jean Rhys' Good Morning, Midnight for the first time, and I am jealous, terrifically jealous of anyone experiencing the ecstasy and numbing agony of this novel for the first time. It is my favorite book. I cannot say this too lightly. I read it about every six months. I open it and then despair and wrench and fall madly in love. I have some of the book memorized. My novel Green Girl, the first novel I have ever written, is partially based on it, a sensitive young woman walking around a foreign city, sure so sure that she would be complete if she possessed what was behind department store windows, caught in a string of humiliating shopgirl jobs, surrendering and yet fragmenting from the gaze, and I quote from the book frequently throughout.
Jean Rhys saved me from myself. I too have suffered, have learned what it was like to not let things go until I had murdered it, I was a survivor of the trauma of being young and passive and pretty. But as Clarice Lispector writes in Hour of the Star, not come yet to consciousness, not asking yet, "Who am I?" ("to probe oneself is to recognize that one is incomplete.") I discovered Jean Rhys when working at Foyle's Bookshop. My colleague had said that she was terrific for reading on the dole. And I devoured her, I who had always been so self-devouring. And this is when I realized - I want to write like this, I could never ever write like this. Is this what some poets feel for Sylvia Plath? This is what I feel for Jean Rhys. Jean Rhys the patron saint of girls then women like me, who have always been so mute, cast aside, their subjectivity surrendered in the big novels, world. The patron saint of girls who are charming diversions until they grow old or one grows bored with them. And Jean Rhys writes back, her voice, her voice, her voice. The kept woman speaks back! And Good Morning, Midnight is her most perfectly tuned act of revenge (more so even I think that resurrecting Bertha Mason from monster in Jane Eyre).
This is what I wrote in a recent Chicago Tribune review of Rhys*:
In her lyric novels of mood and memory, Rhys speaks for her mute vagabonds, her former (and current) selves, struggling from the bottom, sinking deliriously in bottles of rouge, Pernod and barbiturates -- always another, please. Her prose is also intoxicated, fragmented, elliptical, with snatches of song and dialogue, every extra word cut away. It is the singularity of voice that stands out, the perfectly tuned desolation and rage. One only thinks of Rhys' boozy nihilist Sasha Jansen in "Good Morning, Midnight," one of the finest evocations of breakdown ever written (a novel that came out at the wrong time, at the dawn of the

Second World War

, when no one wanted to read something equally acidic and awash in tender melancholy). But even her

jeunes filles

, the naive chorus girl Anna in "Voyage in the Dark," Marya in "Quartet," are bitter, wan and lost -- lost in drink, in men and in memory. Rhys herself was presumed lost and even thought to be dead, after the disastrous publication of "Good Morning, Midnight." Yet she was holed up in a bungalow in

Cornwall

working for decades on what would be considered her masterpiece, "Wide Sargasso Sea," which evokes Rhys' childhood and rewrites one of the most famous screeching mutes in literary history,

Charlotte Bronte

's lunatic Bertha Mason in "Jane Eyre."
In Good Morning, Midnight, Sophia Jensen (who has changed her name to Sasha), visits Paris for a fortnight, after being saved from drinking herself to death in London, and finds herself flooded with memories of the past. The opening lines: 'Quite like old times,' the rooms says. 'Yes? No?' What Rhys does best: rooms and moods. Rhys' characters always trapped in a series of terrible rooms, reminding me of Joseph Cornell's notations on the back of "Penny Arcade Portrait of Lauren Bacall": "An insight into the lives of countless young woman who never knew, or may never know, any other home than the plainest of furnished rooms in a drab hotel."
Sasha is Lol Stein without flattening down her insanity, she numbs herself with another Pernod, please, a bottle of wine on the tic, please, she numbs herself with passivity, but she is wide open to the cruel world, as if a layer of skin has been flayed off, and she cannot keep from being seduced by the past.
I'm a bit of an automaton, but sane, surely - dry, cold and sane. Now I have fogotten about dark streets, dark rivers, the pain, the struggle and the drowning...Mind you, I'm not talking about the struggle when you are strong and a good swimmer and there are willing and eager friends on the bank waiting to pull you out at the first sign of distress. I mean the real thing. you jump in with no willing and eagerfriends around, and when you sink you sink to the accompaniment of loud laughter.
Sasha sits in public at cafes, feeling on Exhibition. "Fly, fly, run from these atrocious voices, these abominable eyes." She cries in public. She is a wound ripped open. She is no longer beautiful, looked at with desire, a
hag
(I think she is in her forties or late 30s, it says somewhere in the novel, but no longer a lolita)."Today I must be very careful, today I have left my armour at home." She cannot but sink back to the past, flashbacks of her baby dying, her husband leaving, humiliating encounters with the outsider world, piggy bosses and wolfy predators. The gramaphone record going off in her head, here this happened, here that happened. Always an SOS, always something that can save her from herself, dying her hair blonde, a beautiful dress, a new hotel room with a better view. A series of encounters with the down-and-out, a Russian artist, a gigolo, the "freemasonry that preys on the rich." Now she is prey, again, like before, but she is seen as an old woman with a fur coat who can be taken. (I wrote earlier of the link between GMM and Tropic of Cancer). And Sasha becomes the wolf in the novel, she tries to get her revenge.
But what Rhys does best is the ecstasy to the melancholy. The writing so wonderfully, gorgeously, fragmented, rhythmic, musical, interrupted by snatches of song, of French. The flashbacks. The repetition. Like she is Emanuelle Riva in the cafe in Hiroshima mon Amour, getting drunk with a stranger, but not cold, or restrained, we can hear the content of her interior monologue. Jean Rhys is not restrained. She is messy, she spills over, her characters Ophelias drowning in the whirlpool of their own emotions. But, oh, what emotion. What energy. The abject ending mirroring the end of the Molly Bloom passage in Ulysses.
*
By the way, in Googling myself to try to find the Trib review (which was of the newest biography, gargh, I hate biographies) I found a comment about a review: That the review was "grossly unintelligent." I chewed on that and slushed it around in my mouth with my morning white tea. Grossly unintelligent. I love that. I do. Nothing like a good dose of loathing in the AM. And so Jean Rhys, that scene she is remembering of working in the atelier, and the English manager looks at her like an idiot (his "plat du jour boiled eyes - served cold"). I recreate a scene like this in Green Girl, based on a manager at Foyle's. "He thinks I'm an idiot. He thinks I'm a blonde, American idiot." I love though that I'm "grossly unintelligent." I love that there's a grotesqueness to my apparent idiocy. Perfect for today, when I have to actually quote from a Trib review because my mind is marbles, not artistic, but autistic. Oh fuck the world with their reason and logic and ability to form cold cruel arguments.