Reading Action, Yes, came upon this
essay
Ariana Reines wrote about her book The Cow, which I have not read and now I want to read, this is what she has to say about Duras
The Hag Writer

The patron saint of hag writers is Marguerite Duras. When I read her writing, sometimes the emotions are too heavy for me, and I think, this is weepy and grotesque. However, other times, when I read her writing, I think that she is the most incisive, elegant, perfect writer, and that her sentences are pure and pierce my heart. Marguerite Duras was determined and she wrote her beautiful books and she made her movies and plays and she was a hag with a lumpy face and big glasses, and I like that about her, and I like her sorrow and resolve.
I am not a hag. I am 26 years old. I am afraid of hags and I am going to be one. It is important to understand what hags are, why human beings can be so disgusting, and desire. Charles Baudelaire was a Mamma's boy. So was Marcel Proust. Why is love so gooey and disgusting. The Hag Writer has a lot to teach us about why love is so gooey and disgusting.
Don't know if I'm entirely into the idea of hags, the whole Snow White/Evil Queen dialectic...especially I think Duras looks awesome in the above photo, very chic, non? Although then I think of stories of Duras hammered out of her mind in her old age. Although then I have a conversation with a writer friend, and she says she thinks of the hag like a good thing, like Colette and Simone de Beauvoir, women writers who are sexual in their old age, but to me, hag is the witch in Snow White who feeds her apples and is hairy and warty...Hag is like cougar to me. The way we fear older women, the way we find older women's beauty unappetizing (I don't. And actually my partner John has the super-hots for older woman. Would he be mad at me to admit this? But he finds like 50-70-year-old women super hot, especially this one anarchist poet who would ride around on her bicycle near our old apartment in Ukrainian Village, he loved her, she was his crush object).
My writer friend sent me this
link
to a review of a book about Colette, Beauvoir, and Duras, dealing with age and women writers. Love this quote by a scholar of French lit about the difference between American and French women (which reminds me of Dodie Bellamy writing about this in Barf Manifesto): "French women tend to wax poetic, fatalistic, and serene," she insists, while "Anglo-Saxon women tend to wax angry, energetic, and political." I hope when I'm a hag to wax angry, energetic and political way more than poetic and serene! This must mean that Elfriede Jelinek is actually an American.
Anyway....(I forever, digress)... love love love what Reines writes in this essay about emotions, and desire. Just Googled Reines because
Ross Brighton
name-checked her and then
Repat Blues
namechecked her and I'm embarrassed I've never heard about her, what should I read by her? this is what I'm thinking, am musing, am admiring, feeling kindred, a weird feeling sometimes to be kindred, it can make me feel nervous & jittery...
and lo and behind right on my desk! is Reines' translation of
The Little Black Book of Grisélidis Réal
(subtitled "days and nights of an anarchist whore") and I love, I love anarchist whores, I imagine myself an anarchist whore, and sometimes when I go about in my black knee boots and red beret I could be an anarchist whore, a recovered anarchist whore, I am not a recovered anarchist I am a recovered whore, but she was an anarchist whore, like Julia in 1984.
And so I decided to read the book, published by Semiotext(e). And so I did. I sat down and read it. And it's really an extraordinary document about an extraordinary woman. And the following is my sort-of review/basically just quoting passages. It will be a lazy review, as I would be a fundamentally lazy whore. Here we go-yo.
My Lazy Review of The Little Black Book of Grisélidis Réal with interviews by Jean-Luc Hennig, translated by Ariana Reines (Semiotext(e))
This is she (I think, so Google images tell me):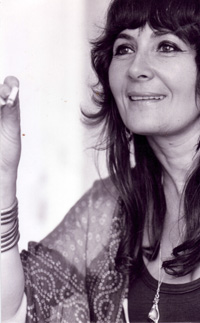 A writer and prostitute with Anarcho-Marxist leanings, revolutionary sex activist, who charged on a sliding scale, fucked everyone who paid and was basically nonviolent, immigrant day labourers and 80-year-old men and the handicapped, and kept an amazingly precise little black book, her "revenge," she tells French journalist Jean-Luc Hennig, the majority of the book are their interviews, spaced years apart, and some fragments of her writing and then the awesome abecedarium of whoring.
First Ariana Reines writes a foreword speaking to the interesting dilemmas of translation. I learned so much:
Enculer means to fuck in the ass, to assfuck, to bugger, (as the Britons used to say, apparently), or to use a more contemporary American term, to ream. Grisélidis uses the verb frequently in Little Black Book, to indicate something she does to a client - although I think the verb has a broad application for her. At first I thought that the frequency of the verb indicated that she mounted and rode her clients, fucking them with some kind of strap-on. But prostheses like that only show up twice in the book. There is one direct reference to a vibrator (un vibro-masseur), followed by an exclamation point, suggesting some kind of novelty or squeamish delight associated with the device. At another point she mentions a "big plastic electric cock." For a sex worker to refer to a vibrator or dildo in this way suggests that she does not often use tools of this kind....Even though "assfuck" might suggest heavier penetration, I've decided to use the word as it functions within Grisélidis' usage: in her little black book, enculer means a finger or two or three in thas ass....
This is then from an excerpt of Grisélidis' own writing "The Way Blacks Dance" (there's certainly problematic racializing/exotifying in this text, as well as in some of the characterizations in the interview/book). But, on writing:
To write is to kill, it's to roll naked in ash, it's to escape into suicide and madness. You spit in its face, second by second you tear from it its living secrets from rot and you die of it. I write to vomit myself as I was made, I write to perpetuate myself the way I was loved and wounded, caressed and resuscitated. No act is reasonable if it is not kindled, at the root of ourselves, by our hidden desires. They must be given a voice on pain of death.
She actually tells Hennig that she has tried to commit suicide several times, all over intense love affairs, specifically with a man they refer to as "the Berber" in the series of interviews of many years. But what really emerges from these interviews is the complexity of a woman merged with this incredible humanist/activist who believed that fucking should be for all (men), yet also very human, and delightful, and a marvelous storyteller.
I learned so much! Really. On jazz and blowjobs:
When you have some excellent jazz on, it's so gorgeous to give a blowjob in rhythm, it really works for embellishments. If there's a good solo on, after you've done the Japanese fire ants, you can squeeze his balls in time with the music. It helps! After you lick you suck, the guy ejaculates in music.
(As to what Japanese fireants are, she explains it, it's something to do with a finger movement.)
Reines quotes Grisélidis in an interview as adoring Henry Miller, but finding Sade's cruelty anti-humanist (I'm rewording). There is with her philosophy about sex something that is shared with Miller, this sort of mystic experience
I wrote about earlier
. About the transcendence she experienced after fucking 17 men during a Swiss national holiday, she starts telling Hennig about how her cunt started to hurt, but then:
It practically breaks the skin by the end. No, but I realized something extraordinary. By the seventeenth, I had absolutely no strength left, and then I said to myself, well, fundamentally where am I? Am I still myself? Or have I stopped existing? Do I exist differently? And then I saw that something kind of marvelous had happened to me, you can collectivize your body....
I mean, you stay yourself, but at the same time, you belong to others, I was myself all the bodies of the other people who'd come here. I wasn't only their body, but their penis, their soul, their race. I became totally multiple. It's wonderful. You're like a piece of algae tangled up in other algae. It's an ocean. All the nuances are mixed together. It's absolute splendor.
But most of all! I loved the Little Black Book at the end. The brevity yet succintness of her characterizations.
ALBERT glasses, black beard, not much hair left, looks rather Presbyterian - professorial in a psychiatric way, apart from this gentle, cultivated, spiritual, dying to be fucked in the ass but doesn't dare (virgin anus very tight) - suck, fuck (fairly soft) 100F.
or how about this one:
ANTOINE looks like an industrial peasant kind of down at heel, timid, sensitive - a bit bereft of hair - retired admiral jacket - extremely voluble prostrate with arterial throbbing - assfuck with nuances while flattering the interior, while mouthing and cajoling the balls - at the end press and assfuck rhythmically while deepthroating - ejaculation in mouth 80F.
However amazing these are, like the journals of a Florence Nightingale-whore, there is a sense that Grisélidis' form of sex activism is inherently heteronormative - she is a high priestess to men's desires, like a Delphic priestess on the knees before Apollo, head bobbing vigorously, and there is no attention to her own pleasure. In the interviews and the little black book it is all about the cult of ejaculation, all of her ministrations towards that one purpose. Although there is something so liberating about her lack of shame or horror connected to fucking. And this makes this book so worthwhile - this joy, this freedom, as well as the wonderful detail. As Reines writes in her foreword, there are some marvelously diverse descriptions of assholes, such nuanced, ecstatic descriptions of prostrates and the rest. Not Miller's cunt portraits but anus portraits.
Also. Sidebar. I'm realizing that I'm maybe obsessively obsessed (obsessively obsessed? really?) with the female prostitute, the identity of the woman prostitute, or of young girls in a sort of demimonde. I think philosophically I am interested in what I consider the dialectic of the female (heterosexed hypersexed) libertine, this sort of postfeminism of hook-ups and fucking for sport. I have been chewing over this quote by Bataille: "Not every woman is a prostitute, but prostitution is the natural apotheosis of the feminine attiude." Now for real, this is problematic, but there is truth to it I think. Not the idea of "natural apotheosis" but the sense that a young woman who is trained to be very feminine, seeking to please men, to be the object of pleasure for men, in a way prostitutes herself. Thinking of W. Benjamin's section on prostitutes in Arcades Project as well, the connection between mannequins (models) and prostitutes. The dialectic of the woman in public - not flaneuse, but consumer and commodity at once.
This morning I am rereading my (still unpublished!) Green Girl, my real first novel (because I'm a masochist and insist on repeatedly torturing myself, and, like figuring out the end of a love affair, I am trying to figure out what is wrong with my orphan darling, what is wrong, why no one loves her). Anyway, Green Girl is a sort of Arcades Project of the ingenue, and borrows heavily from Arcades Project (set in a department store, about shopping, and being the object of beauty, and film stars, and prostitution, in a way). And I thought my newest project was obsessed with prostitution but then I read this (I will quote an excerpt, but maybe erase later. I'm realizing I'm giving away all my writing for free! I would be a terrible prostitute!) Let me set this up: Ruth is an American ingenue working for a dept store in London who is obsessed with a boy back home she calls "HIM" (very much borrowing from love-language of mystics, a big part on the novel) and has a very masochistic passive sexuality. She is now walking around Soho, past the sex shops, it is raining.



Down Charing Cross, past red phonebooths with the faint waft of men's genitalia littered with Escort calling cards, postcard Sirens luring in men walking by. Ruth shivers. She wonders what it would be like to prostitute herself. To be a beautiful young girl fed to the lions. Like a sort of martyr. Sometimes she fantasizes about this. A state of utter depravation. Except it is a Hollywood version she dreams of, like Jane Fonda in Klute.




She prays to be preyed upon. She is a deer standing in the middle of the forest road, knees buckling, begging for a predator. And Bambi has no mommy. The mean hunter has a sexy glint in his eyes. This is why she cannot forget HIM. HE was not fooled by her face of innocence, by her pale pinchedness. HE used her and abused her and she begs for a repeat of this experience. When HE would come over for their nocturnal couplings she would plead for HIM to destroy her, murder her, pound her back into the nothingness from which she began and which she knew deep down she would inevitably return.




She hadn't known she had desired a beast. Someone to destroy her.




That first meeting ended in bruises that she would lovingly watch yellow over the weeks.