I am reading Bataille's Blue of Noon, edited by Harry Mathews (who I once saw read in London, and whose The Cigarettes I sat and read upstairs at the Foyle's coffeeshop when I worked there. God, I miss that coffeeshop. It is so purgatorial to live somewhere without a real coffeeshop to escape to.)
Anyway, Blue of Noon is destroying me, and it's also a really complementary text to Henry Miller's Tropic of Cancer, and maybe also Fitzgerald's Tender is the Night, and I've been thinking about the Miller especially, and now the Bataille, as works of bulimic literature, and potentially as works of feminine writing, in the context of some thinking I've been doing about the novels of Fitzgerald. Basically I am thinking about my assertion that certain male writers I adore are actually woman (Bernhard, Artaud, Rilke), and wondering if it's actually more complex then that, looking at modernism more generally and Surrealism specifically (I think it's fair to situate both Blue of Noon and the Miller as Surrealist texts). And worrying about how I situate the radical potential as a prose text in its being feminine or not, and hopefully problematizing that, in that most of the works I'm talking about are written by men!
I am loving Blue of Noon, and so surprised how sincere it is, in a way, and how much pain and emotion and suffering resides within this text. I mean, I love Bataille's essays (am rereading his work on sacrifice now for Under the Shadow of My Roof, another myth I'm drawing on is the sacrifice of Iphigenia in The Oresteia, the one that's coming out, O Fallen Angel, is also really invested in that text) and I've read Story of the Eye, many of times. And I recently flipped through his fragments/poems Divine Filth (which contains the opening to Blue of Noon, the scene with Dirty in the hotel, shitting and vomiting everywhere). But Story of the Eye is mere titillation compared to Blue of Noon, which I would sit on my bookshelf next to Sartre's Nausea and a novel by Jean Rhys, as it's so much about alienation and abjection (abjection is my new favorite word, by the way. I need to go reread Powers of Horror.) Sure, certain figures and ideas reoccur in Blue of Noon and Story of the Eye, the interest in shock and humiliation, the desire to reach one's limit-experience, a sort of mysticism surrounding sexual cruelty and sacrifice.
The reason I went to read Blue of Noon immediately after reading Aliens & Anorexia is the story within it, the fact that Simone Weil is the basis for the madonna character Lazare, and then Laure/Colette Peignot is the model for the libertine Dirty. This makes my mind spin. I totally want to read this. Bataille is so massively in love with Simone Weil, his character admits it as well, but feels such disgust and horror towards her as well (the mother). This reminds me of Breton's revulsion/boner for Claude Cahun. I want to write fanfic about Surrealist literary figures! Actually in my head there's a book I'm working on called I Heart Andre Breton, dealing with just this thing.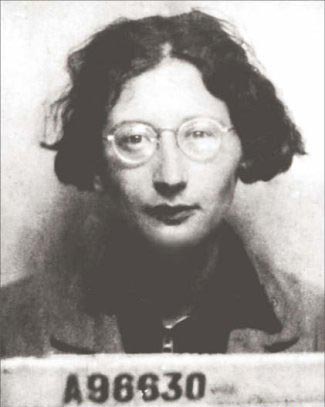 female criminal mugshot: the Red Nun Simone Weil (the Bizarre-Simone)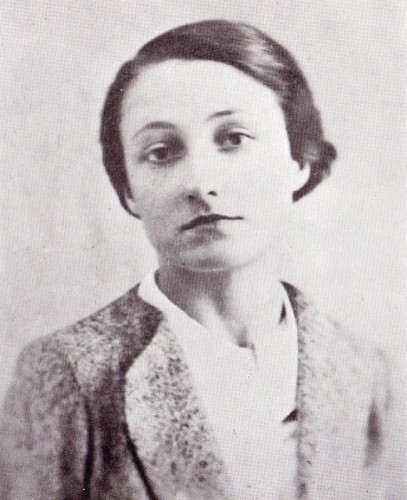 female criminal mugshot: Colette Peignot ("Laure")
female criminal mugshot: Claude Cahun as androgynous alien
Nadja is a book I love but want to throw across the room with disgust, much like Jean Rhys with Jane Eyre. Someday maybe I'll scan my juvenile marginalia from when I first read Mad Love and Nadja in a Surrealist seminar at U of C (my erudite comment at the time: it's so sexist! or something.) And Bataille also collects very Nadja-like figures, the Surrealist femme-enfant, who he as well pathologizes. And of course the madonna and the libertine, very much of a Sade dialectic (Juliette/Justine, which I'll get into detail more in my next post, a consideration of the whore).
There's something interesting here, the interest in mysticism (this is an amazing amazing amazing book about the modernist obsession with mystics), and the relationship between medieval female mystic and male confessor, the male confessor takes her words, pins then down, edits them, mirroring as well the doctor/patient Freudian relationship (wasn't Anna O. the weaver of her own fairytales? Freud transcribed them, reordered them, controlled them). This is the case with Breton and Nadja, and many other cases of modernist literature, the mirroring of the male/female relationship with that of doctor/patient, confessor/mystic (also with Scott and Zelda, Tom and Viv). But in Blue of Noon, Lazare operates as the stoic female confessor, the priest figure, and Bataille's character is the wild, hysteric mystic, blabbing and confessing his life story, all of his secrets, one of which involves a mild Rose for Emily plot.
Actually the work this most reminds me of is Fitzgerald's Tender is the Night, maybe the other text besides Nadja that I'm invested in deeply yet also want to throw across the room. There's so much interesting stuff going on in Tender (as well as the rest of the Fitzgerald texts) - the ventriloquizing and vampirizing of the mad-Zelda voice, this whole father confessor/patient relationship that I see in modernism made even more explicit as Dick Diver is a psychoanalyst and his wife Nicole Diver is his Dora-like patient. And what else is a case study except the use of another's raw material, using another's words or voices to convict them, taking and shaping their language and autobiography(as Scott does with Zelda's documentation of her breakdown in Save Me the Waltz)? And to me in all of Fitzgerald the most interesting intense writing is when Fitzgerald channels (or vampirizes) the female voice, when the writing is surreal, disordered, associative writing - Daisy in Great Gatsby, or Nicole in Tender or any of Armory's mystic-muses in This Side of Paradise. The speech of the Fitzgerald woman has a convulsive beauty, in Tender is the Night Nicole is an American heiress Nadja par excellence. And this is the type of writing that Zelda Fitzgerald herself wrote in Save Me the Waltz. The Fitzgerald flapper is Surrealist muse and medieval mystic, both needing a confessor and a medium.
The outlaw texts contained in the form of Nicole's letters and dialogue in Tender is the Night are the most associative and fragmentary writing in the novel. Yet the "disordered language " is also used to convict her, to diagnose and name her—"Diagnostic: Schizophrenie." Dick Diver analyzes Nicole's letters like the Freudian he is: "letters among whose helpless caesuras lurked darker rhythms". These "helpless caesuras" and "darker rhythms," although read within the text as an example of illness, are also an example of Cixous' feminine writing. The line, "I am not going to write you anymore. I am too unstable." Kills me.
When Fitzgerald allows us rare entrances into Nicole Diver's interiority, as is the case of the letters, or snatches of dialogue, or the glorious monologue running for several pages in Book Two, we have these texts-within-texts of a feminine voice-cry. "We are chanting nonsense…" (The brief snatches of songs in these Nicole passages call to mind a Jean Rhys novel)…circular, repetitive, full of voice:
Tommy says I am silent. Since I was well the first time I talked a lot to Dick late at night, both of us sitting up in bed and lighting cigarettes, then diving down afterward out of the blue dawn and into the pillows to keep the light from our eyes…Talk is men. When I talk I say to myself that I am probably Dick.
A case of ventriloquism, possession, or perhaps, as is the case of Zelda's mysteriously missing journals, a form of theft. Perhaps this is another meaning for Cixous' La Genet, texts that are outlaw, criminal, stolen. Speech as Parole, another criminal suggestion, also suggestive of freedom, jouissance.
Is there a link between the Surrealist or modernist mode of automatic writing (by Henry Miller, and perhaps also by Bataille and Fitzgerald? ) and l'ecriture feminine? Feminine writing is privileged by the voice. Sandra Gilbert locates feminine writing as a "voice crying in the wilderness," in Newly Born Woman, Cixous describes feminine writing as "rebellious texts," writing as voice, écriture as parole. She writes of the "voice cry":
First I sense femininity in writing by: a privilege of voice. Writing and voice are entertwined and interwoven, and writing's continuity/voice's rhythm takes each other's breath away through interchanging, make the text gasp or form it out of

suspenses and silences, make it lose its voice and rend it with cries.
Defined by spoken utterances, feminine writing does really parallel Surrealism's automatic writing, not only because it "privileged (feminine) emotion over (masculine) logic," as Conley writes in Automatic Woman, but also because it "comes as close as possible to spoken thought ." The male author repeats and retells the tales of the mad muse. While Cixous' feminine writing privileges this voice, the Surrealist aesthetic of automatic writing seems to suggest that the woman's radical spoken utterances are not art or writing in and of themselves, but that an author is needed to edit and repeat, to shape and discipline.
And it's important to think how Breton developed his notions of convulsive beauty and the Surrealist theories of automatism by watching (and seducing) his female hysterics at La Salpetriere.Catherine Clément notes that Flaubert was the true hysteric . Yet what did his proclamation, "Madame Bovary, c'est moi" mean? In Compulsive Beauty, Hal Foster argues that "Some male writers assumed the position of the hysteric in order to take on a 'feminine' perspective, an 'hysterical' sensitivity. The most famous instance, of course, is the identification of Flaubert with Madame Bovary." Could we take on this same model for literary modernism? In many ways Joyce's Ulysses, specifically the Molly Bloom babbbling at the end (the only one I'm really interested in! except for the Sirens section!)is the ultimate bodily, feminine text. But is Joyce vampirizing or ventriloquizing the feminine "hysteric" or "madwoman", and does that make a difference? This makes me think of poor cross-eyed Lucia so obsessed with Samuel Beckett. "Molly Bloom, c'est moi?" "Nadja, c'est moi?" In these texts, the feminine or "hysterical" poetics is subsumed by the more orderly, rational masculine text. As Foster notes, hysteria is a move that excludes women as subjects and constitutes them as objects. It's interesting with these male modernists - Joyce, Breton, Fitzgerald, Eliot. They didn't actually see war. But they were "shell-shocked" - they were hysterics. In many cases it was the women in their lives, their marriages, their mistresses, that were their traumas. Which is really psychoanalytic in a way I can't really piece out yet. I think I need to go reread some Kristeva. Something to do with horror of the maternal body. For the abject is really related to the feminine, isn't it? A fascination as well as repulsion. And are there female-written texts that deal with the abject maternal body, complements to Miller and Artaud and Bataille? (yes, yes, there are, I hope to get to that very soon).
I regard Jean Rhys as the patron saint of feminine writing in the English-language, modernist tradition. She writes the intensely emotional, intensely fragmented, disordered and sometimes, yes, hysterical state of mind. Think glorious Sasha Jensen in Good Morning, Midnight (her Molly Bloom series of yeses at the end, falling into the arms of a man who horrifies and disgusts her), a figure not that different from the narrator in Blue of Noon or Henry Miller in Tropic of Cancer - they all sit around and get wasted, and are destroyed by the past, and strike up strange and weird encounters with fellow travelers, and sit around in a series of terrible rooms, and all exist in a state of fever dream. However, Sasha Jensen (and the earlier, younger Jean Rhys figures in her earlier between-the-war novels) represents the type of desperate woman, or "fallen woman" in the demimonde of Paris and London who Bataille and Miller are horrified by and degrade. And most importantly, objectify. And there's a real disgust and horror of women in both the Bataille and Miller. (The language Bataille reserves for the Simone Weil character is astonishing in its ambivalent misogyny for a woman who dares to not be sexually open and available).
Populating both Miller and Bataille's texts are these "Cunt Portraits" (as Anais Nin calls Miller's), the resurrecting of stories of different prostitutes/fallen women they're obsessed with....(I would love to write a work called Cunt Portraits about all of these women I'm collecting for my mantel...Colette Peignot, Simone Weil, Lou-Andreas Salome, Barbara Loden, Kiki of Montparnasse, June Miller, etc. etc.) And there is the sense in Miller that he is channeling the words of both the men and women vagabondes he runs into, it's alluded to quite often, especially with his lover Tania. So this makes me really think about whether Bataille or Henry Miller are really feminine writers, or whether maybe daddy-Surrealism with its automatic writing and fetishizing of the Surrealist madwoman (such as Hersilie Rouy, whose asylum writings inspired Dali's paranoid-critical method) is instead a sort of appropriating or colonizing of the feminine. But this is not absolute. There are cases of Surrealist texts in which the man is the hysteric (but again, was Flaubert a hysteric? Can there be a male hysteric? Louise Bourgeois would say yes.) But if the man is "possessed" by the women and made hysteric, isn't that still a really problematic fetishizing of (female) madness, the irrational, disordered female voice? What would Breton's Nadja be without, well, Nadja? How is Nadja any different than Freud reappropriating Schreber or Dora? I mean the model of compulsive beauty is really problematic.
Oh, man I love this passage, let me quote it:
At night when I look at Boris' goatee lying on the pillow I get hysterical. O Tania, where now is that warm cunt of yours, those fat, heavy garters, those soft, bulging thights? There is a bone in my prick six inches long. I will ream out every wrinkle in your cunt, Tania, big with seed. I will send you home to your Sylvester with an ache in your belly and your womb turned inside out. Your Sylvester! Yes, he knows how to build a fire, but I know how to inflame a cunt. I shoot hot bolts into you, Tania, I make your ovaries incandescent. Your Sylvester is a little jealous now? He feels something, does he? He feels the remnant of my big prick. I have set the shores a little wider, I have ironed out the wrinkles. After me you can take on stallions, bulls, rams, drakes, St. Bernards. You can stuff toads, bats, lizards up your rectum. You can shit arpeggios if you like, or string a zither across your navel. I am fucking you, Tania, so that you'll stay fucked. And if you are afraid of being fucked publicly, I will fuck you privately. I will tear off a few hairs from your cunt and paste them on Boris' chin. I will bite into your clitoris and spit out two franc pieces....



What the fuck's a zither? Anyway, let's ignore for a moment the language of colonialism in this passage (can we? can we ignore the fact that women are objectified in most of modernism? that women are collected, they are the commodity objects, Benjamin's "wish-images," they are the femme fatales who the men need to possess?) The language is glorious. Mind-altering hallucinogenic stuff. In the rest of Tropic of Cancer Miller's writing is surreal, associative, disordered, bulimic, chaotic....
In Automatic Woman Katharine Conley writes that automatic writing is sometimes seen as not "legitimate" because it privileges the emotional and disordered as opposed to Western logocentrism. But let's be real here. Henry Miller and Bataille and James Joyce are seen as genius male writers. This again reopens the wound (cue the castration complex)—are the great male geniuses really bulimics? No they're not seen as bulimics, they're seen as great literature. They can channel the "feminine" the "bodily" (a problematic binary, of course), they can channel voodoo-madness, but instead of being pathologized and disciplined they are feted as geniuses for their spirit-possession.
As a counterpoint, Jean Rhys' characters are Nadjas and Zeldas from their own perspective. And she gets nailed to the cross for that for being more "muse" than writer. And Jean Rhys gets hell from other women writers, Doris Lessing dismisses her novels as "me-texts". I once taught a seminar at the Newberry Library on Women Modernists and Madness, and all the old biddies took the class because we were reading Virginia Woolf's Mrs. Dalloway (which of course I love love love, and read every year, my novella that's coming out is a grotesque homage to Mrs. Dalloway). After that, we read Jean Rhys' Good Morning, Midnight, and then Djuna Barnes' Nightwood. Everyone hated the Rhys (and stopped showing up by Nightwood), besides one student, who was the only male student, may I add. One woman complained that Rhys was just an alcoholic. And her bitchy friend with perfectly straight hair said "I don't know. It just looks like Ford Madox Ford put a pencil in her hand and said 'write in your journal, and I'll edit it a lot.'" This blew my fucking mind. I've never been so close to strangling a student. Leaping over the table. Being led away in a straitjacket. Blabbing on and on about gorgeosity and orgasmatic prose. It is interesting the passage we were discussing in GMM was when Sasha Jensen imagines having her wolf-shadow leap out and smash the skull to pieces of the bitchy English redhead who made fun of her at a restaurant. It was very much a Jean Rhys moment, and I had tears in my eyes as I passionately defended my love, my Jean, and then afterwards these two women complained that the atmosphere had become too "intense" in the class. It makes me realize why Virginia Woolf channeled Septimus Smith for her "mad" character - she was always so afraid of appearing illegible, of appearing mad herself in her literature. And is this perhaps why Woolf is seen as more legitimate than Rhys?
Let's face it, if Molly Bloom was a real woman writer (I am thinking now of Coetzee's alter-ego Elizabeth Costello, who apparently writes a book from the point of view of Molly Bloom, but isn't Molly Bloom's monologue from the point of view of Molly Bloom? anyway), she would probably be dismissed as mad and unnecessarily pathologized. We glorify our male literary hysterics who often channel women and much less our female literary hysterics or bulimics. This is unfair, obviously. But is it fair to dismiss Miller and Bataille as not examples of feminine writing?
Feminine writing is privileged by voice, and writes the bodily and the taboo (yes, I know, this is problematic, to conflate the feminine with the bodily, with the taboo, with the Other). I think this holds true especially in Henry Miller's Tropic of Cancer and to a lesser degree in Blue of Noon (less ecstasy/bulimia in Blue of Noon except in the fever dream passages although still consideration of the abject (male) body, the disorganized and disordered body, and in these passages the sick body does become almost half-female, like Schreber's psychosis). And in both texts the men really are the hysterics, as I noted before (with the Simone Weil character of Lazare being the solemn stoic priest-figure, there really is a genderbending going on in that text). This is different I think than a Fitzgerald vampirizing of the feminine voice in his texts. I guess this is the question: can a text be bulimic, be a work of feminine writing, that writes madness and the body, is hysterical, YET ALSO is really problematic in its objectifying and fetishizing of women, and its general horror of the feminine? (think T.S. Eliot's "The Waste Land," there are all the femme fatales, the disgust of the hysteric, but the work is quite a hysterical many-voiced texts in many ways, a writing of a fractured psyche). Although abjection dealing with the female body is not specific to male authors (not at all), women writers of course write of the experience of disgust and horror of the body. And of course a main concern of modernism is the fractured psyche, and the madwoman was seen as muse (but seldom author). But I think at least in Miller there's no language of reason or patriarchy, Miller really is the feminine voice in the text. He is the neurotic, the hysteric. (I'm going to get to that in my next post, I think, a discussion of the "whore" and the libertine in Sade and Miller).
But let's stick to Tropic of Cancer now. There are pages that spew in a Molly Bloom ecstasy (and a celebration of prose as menstrual flow, think of Irigaray talking about "flow" as a model for feminine writing). There are pages and pages that are a manifesto to prose as bulimia, prose as a river flowing, prose as bodily fluid (bolded passages are my emphasis):
"I love everything that flows," said the great blind Milton of our times. I was thinking of him this morning when I awoke with a great bloody shout of joy: I was thinking of his rivers and trees and all that world of night which he is exploring.

Yes, I said to myself, I too love everything that flows: rivers, sewers, lava, semen, blood, bile, words, sentence

. I love the amniotic fluid when it spills out of the bag. I love the kidney with its painful gallstones, its gravel and what-not; I love the urine that pours out scalding and the clap that runs endlessly;

I love the words of hysterics and the sentences that flow on like dysentery and mirror all the sick images of the soul

; I love the great rivers like the Amazon and the Orinoco, where crazy men like Moravagine float on through dream and legend in an open boat and drown in the blind mouth of the river.

I love everything that flows, even the menstrual flow that carries away the seed unfecund

. I love scripts that flow, be they hieratic, esoteric, perverse, polymorph, or unilateral. I love everything that flows, everything that has time in it and becoming, that brings us back to the beginning where there is never end: the violence of the prophets, the obscenity that is ecstasy, the wisdom of the fantatic, the priest with his rubber litany, the foul words of the whore, the spittle that floats away in the gutter, the milk of the breast and the bitter honey that flows from the womb, all that is fluid, melting, dissolute and dissolvent....
The rest of the passage is great! But I can't type this much. Anyway, Miller is appropriating the language of the female body, the womb, breast milk, menstrual blood, as a model of writing. Is this in line with Irigaray and Cixous or is it problematic? Something I want to discuss soon is the birth metaphor in Miller, Artaud and Nietzsche. A difference between metaphor and metonymy, the resurrecting of actual lived-in experience.
But Henry Miller--especially towards the end of Tropic of Cancer--is a great purging prophet of bulimia. He pays tribute to "beautifully bloated pages" "pages that explode, pages that wound and sear." Of course in the last passage he is meditating on ecstasy and literature while looking down "into this fucked-out cunt of a whore"... he begins tripping (on literature, basically) while fucking a prostitute, and falls into the cunt like a volcano. Problematic? Yes. But still a celebration of the feminine, bodily, bulimic. Celebration or appropriation or subjugation or commodification? We have to remember that Anais Nin edited Tropic of Cancer for Miller. We don't know how much she influenced the text (and the writing in Nin's journals are totally associative, surreal, bodily, awesome). In my next post I will attempt to wrestle with whether Miller was a misogynist or whether he was a libertine (and is there a difference?) trying to do for Miller what Angela Carter does for Sade in The Sadeian Woman. I don't know if I will succeed. Is it important that male writers, who I am claiming as bulimics, are also potentially misogynists? I don't know if that's important. I'll leave you with one last vomitous manifesto by Miller, calling for creation by destruction (very much the libertine):
Let us have more oceans, more upheaveals, more wars, more holocausts. Let us have a world of men and women with dynamos between their legs, a world of natural fury, of passion, action, drama, dreams, madness, a world that produces ecstasy and not dry farts. I believe that today more than ever a book should be sought after even if it has only one

great page in it: we much search for fragments, splinters, toenails, anything that has ore in it, anything that is capable of resuscitating the body and soul.
Here Miller seems to be opening up a sort of Irigaray-feminine, a radical space of possibility, a radical future of prose filled with orgasmic bodies. And the possibilities of ecstasy and transcendence.
I would like to add that it is problematic my insistence on calling bulimic radical chaotic writing "feminine" - it smacks of essentialism, which I'm not meaning to do (okay, I'm making this hesitation, again, and again). But I am also trying to inquire whether literature that is patriarchal can be seen as radical, i.e. feminine. Should I use a different word than feminine? And I do agree with Kristeva that the idea of aligning the feminine with the primal, or the bodily, is problematic...Now I think I need to go read a lot of Kristeva. Should I reread Kristeva? Is Kristeva's concept of the unrepressed language, the semiotic, better, than the concept of the feminine? Perhaps. And where is the female body in all of this, the maternal body? And am I kicking it too old school with the French Feminists?